14/06/2022 @ 11:00

-

12:00
EMMES 6.0: Can Europe meet 2030 REPowerEU targets without a storage strategy?
EASE together with Delta_EE will organise a webinar on 14 June 2022 to present the European Market Monitor on Energy Storage (EMMES) and to discuss if  Europe can meet 2030 REPowerEU targets without a storage strategy.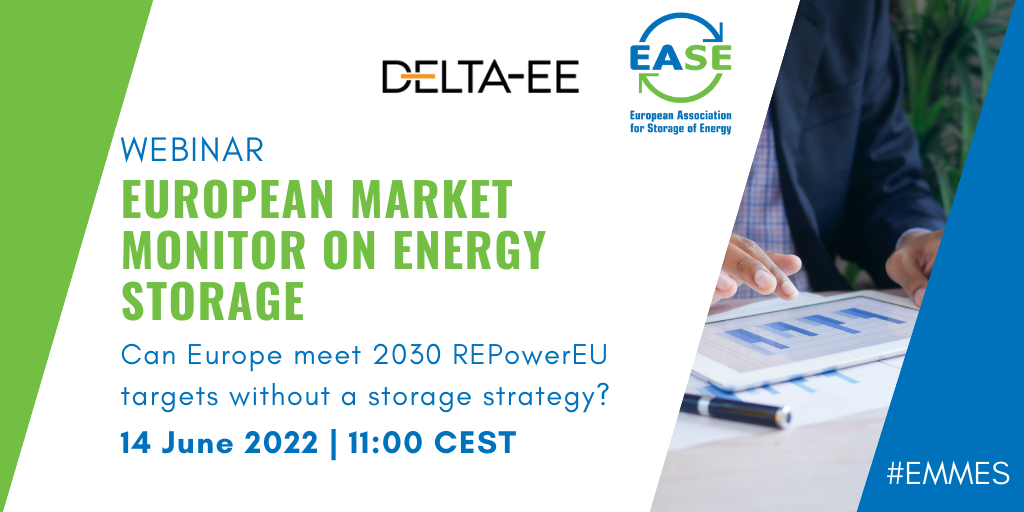 The EU has announced three major initiatives in recent years that will support and accelerate the energy transition: Fit for 55, NextGenerationEU Covid recovery plan and RePowerEU. These initiatives set ambitious targets for renewable generation, hydrogen, the electrification of heating and transport, and plans to reduce dependence on gas.
While these targets will require a significant increase in the scale of electricity storage, a clear strategy and targets for the deployment of batteries and other technologies is missing. Can they be achieved without a storage strategy?
Delta-EE and EASE (European Association for Storage of Energy) are publishing our 6th annual Market Monitor for Energy Storage which holds the most extensive database on European energy storage projects. The database includes detailed data on current installations for all three customer segments (residential, C&I and front-of-meter) across 24 European countries, future projects and forecasts to 2030.
Join us on the 14 June 2022 at 11:00 CEST for our launch webinar where we will discuss:
How has the overall European storage market developed over the last 12 months?
What are the trends in three major energy storage segments shaping the market and how will this change in 2022?
How is European policy affecting the market today and shaping it into the future?