06/05/2022 @ 09:00

-

11:30
EU-India Clean Energy & Climate Partnership Roadshow on Renewable Energy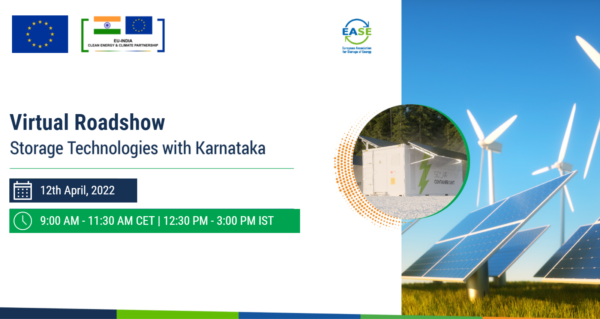 With the objective to identify and support opportunities for EU business engagement in India and laying the framework for future pilot projects in India, the EU-India Clean Energy and Climate Partnership (CECP) Project is organizing a virtual roadshow: Storage technologies with Karnataka, on 6 May 2022, from 09:00 to 11:30 CEST.
With increasing penetration of renewable energy technologies in the energy mix, the storage technologies are expected to contribute considerably to improve the continuous and firm supply of electricity. Recently, the Government of India has highlighted the role energy storage can contribute to various applications such as industries, electricity generation, mobility, etc. and thus, has also witnessed increasing interest from the stakeholders.
The government and private sector companies, along with research institutions are working on increasing the base of green hydrogen and reduce the production cost. The state of Karnataka would be ideal to undertake this roadshow as it houses one of the largest base of industries in India. The state has industries spanning across sectors such as  manufacturing, automobile, Information Technology, healthcare, hospitality, textile, chemicals, etc. with representations from all the leading industrial houses in India which can potentially adopt storage solutions and green hydrogen. The state also has a large base of companies involved in storage technologies and thus would present an opportunity for the EU companies to explore possible collaboration. Find the agenda here for more information!